The Turboflame ® lighter range is ideally suited to many types of work places including electrical engineers, technicians, repair workers, installers, lapidary work and dental labs. Equipped with a 1300° flame the lighters can be used for soft soldering and welding, burning, cutting, sealing and melting. Turboflame ® is a convenient mini blow torch you can use quickly on any job requiring a high intensity precision flame without discolouring or scorching your equipment. We have even been informed by TCM practitioners that they prefer using our Turboflame ® Arc model to light up the end of their Moxa sticks during acupuncture sessions (i.e., application of moxibustion to an acupuncture point). The Arc Muti task model remains one of the most versatile and elegant ways to light up a fire while the mini blow torch models with the option of continuous flame are the toughest of the bunch that have earned their keep during times of war and peace alike!.
Common users of the lighters in a work scenario are technicians and engineers. The RoboMower company explained how valuable Turboflame ® lighters are to their engineers:


"Our company engineers use Turboflame ® lighters for heat shrinking butt joints when installing the perimeter wiring for RoboMower (a robotic lawn mower). It is fantastic to use on windy and wet days and it fits in the pocket so we don't have to carry around a cumbersome blow torch. It's brilliant and I wouldn't want to be without one! "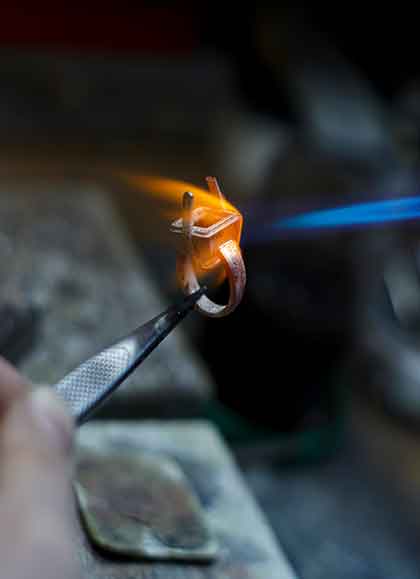 Freedom Fence, a company installing high-tech pet containment enclosures, use the Turboflame ® range for sealing wire joints:  "Just to say what a great product I think Turboflame ® is. We're out there in all weather and need a precise windproof flame with a good amount of heat. I've been using Turboflame ® lighters for 4 years now. I have bought several imitation versions of your lighters but none of them have been as good as Turboflame ®. We are still using one of the original lighters having refilled it many times. " 
Another customer contacted us to explain how quickly his Turboflame ® lighter melted various metals whilst conducting an experiment:
Work lighter use  "It took less than 2 seconds to melt Indium and Tin, 4 secs to melt Bismuth, Lead and Tellarium; 12 secs to melt Antimony; 4.45 minutes to melt Silver and 5.45 minutes Gold. It's a very good product that operates fully and continuously for 10 minutes heating the targeted spot."
Whilst all Turboflame ® lighters can be used for work applications, the Original GX7 and Military GX7 are specifically designed to withstand 10 minutes of continuous use. What's more, if you lock on the flame and pop it into a Turbopod – Presto! You have a convenient mini work bench for those times you need two hands to do a tricky job.